var _gaq = _gaq || []; _gaq.push(['_setAccount', 'UA-37111643-1']); _gaq.push(['_trackPageview']);
(function() { var ga = document.createElement('script'); ga.type = 'text/javascript'; ga.async = true; ga.src = ('https:' == document.location.protocol ? 'https://ssl' : 'http://www') + '.google-analytics.com/ga.js'; var s = document.getElementsByTagName('script')[0]; s.parentNode.insertBefore(ga, s); })();
Some of Montreal's biggest companies have already had the wisdom to take advantage of Janice's services. Corporations like TD Canada Trust, L'Oreal, Xerox, Purolator and Insight Canada are just a few to mention. Our well-structured programs, engaging content, and personal attitude are a guarantee that your employees will not only have fun while learning how to take better care of their nutritional needs, but will also be truly grateful to you for providing them with the chance to improve their diet, health, and general lifestyle. This will ultimately lead to more productivity, a more energized and focused work force, less turnover, and loyalty to an employer who takes their needs to heart. To top it off, most employees' health insurance cover the cost of Janice's services, so there are no additional expenses to your company!
Theme Days

From group lectures to weight-loss competitions, from half or full-day activities like information booths to a whole month of organized events using the topic of your choice, our services give you the option to pick and customize the program that will best match your organization style, company size, and employees' needs. We can offer you a multitude of options to choose from – presentations, practical workshops, daily themes ("Love My Heart" day or "Down with Cholesterol" week or any other subject that would be most appropriate).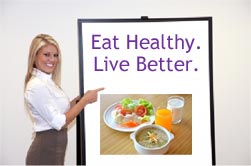 Prices and packages can be accommodated to match your individual company needs and requests. The following are benchmark quotes for our services:
– 1 hour – $225.00
– 3 hours – $450.00 ($150.00/ hour)
– 6 hours – $750.00 ($125.00/ hour)
Travel time and materials are included in pricing. Companies outside Montreal can be fully accommodated.
For your convenience, we have now set up a new online payment system that you are welcome to use:
Speed Consulting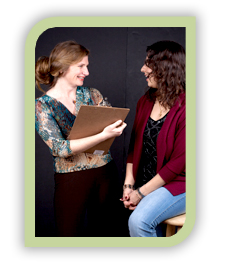 Company employees interested in the service sign up for a meeting with Janice, where individual nutrition issues are discussed in private. A preliminary schedule is drafted with each session no longer than 20 minutes.
We are also able to accommodate large groups of 20 to 30 people per hour of Super Speed Consulting with sessions lasting between 2 and 3 minutes per participant.
Program prices:



– 2 hours (up to 6 sign-ups) – $340.00 ($170.00/ hour)
– 4 hours (up to 12 sign-ups) – $600.00 ($150.00/ hour)
– 6 hours (up to 18 sign-ups) – $750.00 ($125.00/ hour)
– 8 hours (up to 24 sign-ups) – $920.00 ($115.00/ hour)
On-site Counseling

Whether your team members have specific medical needs to change their nutrition habits or simply want to eat and live healthier, they will highly appreciate your interest in their well-being. Give them a chance to have their own personal nutrition consultant conduct a private counseling session with them on the job site – be it an initial visit or a follow-up one. They will be thankful for your concern and the provided opportunity to hear a professional's advice on how and what to eat to ensure their longevity, health, and high levels of energy.
Program prices:
– Initial visit: $90.00
– Follow-up visit: $50.00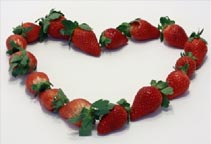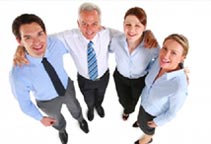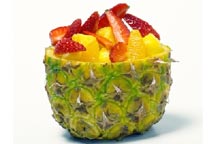 Community Services

We have set special prices and conditions for community groups like schools, hospitals, libraries, religious groups, etc. to make sure we can accommodate both your budgets and requests at the same time. We would love to hear from you and give you a tailored quote to match your specific situation while still ensuring you receive the quality service you and your community members deserve!
Our benchmark rate for lectures, seminars, round-table discussions, workshops, etc. is $90.00/ hour.